"If you don't sincerely trust your dentist then you may have the wrong one. My wife and I love Chalet and have had nothing but a very good experience with them from the beginning! We highly recommend Chalet and Dr. Reick. She is so kind and so forthright it's simply refreshing." – Billy D
Invisalign®
Invisalign Braces at Chalet Dental Care
Forget everything you've heard about teeth straightening. The Invisalign braces breakthrough technology lets you get the smile you've always wanted. Stop feeling embarrassed about your crooked smile and start feeling confident and excited about smiling! The Chalet Dental Care Team have fit hundreds of our St. Paul patients with life altering, Invisalign clear braces; and we would love to help you too.
No bands. No brackets. No wires.
Invisalign teeth straightening isn't just for teenagers anymore. Many adults just like you – who have felt uncomfortable with their smiles due to crooked teeth – now have straight, healthy teeth. With the affordable Invisalign cost you can too!
If you weren't able to get your teeth straightened when you were younger, now is the time to find out more about Invisalign–the clear alternative to metal braces and wires.
Invisalign ~ A clear alternative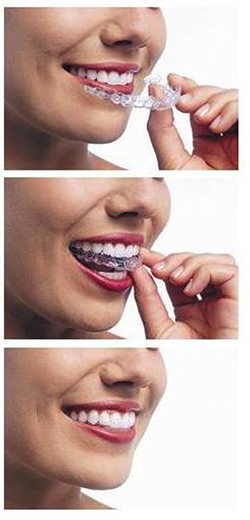 By using a series of clear removable aligners, Invisalign straightens your teeth right before your eyes. Change them about every two weeks, and your teeth will move—little by little, week by week—until they have moved to the final position your orthodontist or dentist has prescribed. Comfortable to wear, our aligners are also removable so you can eat, drink, brush, and floss as usual.
Invisalign~Less treatment time
A typical Invisalign case takes about a year from start to finish. You'll see your doctor every month or two to see how you're progressing. Every few visits, you'll be given additional aligners to continue your treatment. Commonly, the number of aligners worn during treatment is between 18 and 30, but treatment time and the number of aligners will vary from case to case.
Invisalign ~ Invisible and comfortable 
Invisalign is a virtually invisible solution. So you won't draw undue attention to your mouth while in treatment. In fact, virtually no one will know you're wearing them unless you tell. Comfortable to wear, our aligners are also removable so you can eat, drink, brush, and floss as usual.
Not only is Invisalign versatile, helping to correct a broad range of dental and orthodontic issues, but it really works. And there are over a million smiles to back that up. But a confident smile isn't the only benefit of correcting your dental issues with custom-made Invisalign aligners—your health can be positively impacted as well.
Call Chalet Dental to schedule a complimentary consultation to see how Invisalign can change your smile! (651) 413-9150
Will Invisalign Work for Me?
Invisaligncan be used to treat the vast majority of common problems for adults and teens. Whether your smile needs minor improvements or more extensive adjustments, Invisalign can certainly help. It's successful in treating overly crowded or widely spaced teeth. It can also relieve more complex issues, including over-bites, under-bites and even cross-bites. In fact, an Invisalign Certified Orthodontist or Dentist can use Invisalign clear aligners in all or part of just about any treatment plan.
Widely Spaced Teeth
This occurs with abnormal continued growth of the jaw bone. When teeth are missing, this issue can also be caused by the other teeth shifting due to extra space. Spacing issues in teeth can cause some periodontal diseases.
Overly Crowded Teeth
This occurs when there is simply a lack of room within your jaw for all of your teeth to fit normally. When left untreated, overly crowded teeth can cause dental decay, an increase in chances of gum disease, and can prevent the normal function of teeth.
CROSS-BITE
This occurs when the upper and lower jaws are both misaligned. It causes one or more upper teeth to bite on the inside of the lower teeth, and can happen on both the front and/or the sides of the mouth. This issue can cause wear of the teeth, gum disease, and bone loss.
Over-bite
What people commonly refer to as an "overbite" is known to dental professionals as "overjet." It occurs when the upper teeth bite over the lower teeth. It's typically caused by either genetics, bad oral habits, or over development of the bone that supports the teeth. This issue can lead to gum problems or irritation, and/or wear on the lower teeth and can cause painful jaw and joint problems.
Under-bite
This occurs when the lower teeth protrude past the front teeth. It's usually caused by undergrowth of the upper jaw, overgrowth of the lower jaw, or both. It can also be caused by missing upper teeth. This issue can prevent the normal function of front teeth or molars which can lead to tooth wear. It can also cause painful jaw and joint problems.
Want straighter teeth? Make an appointment by calling us at (651) 413-9150
We understand you want the very best dental care possible, and you should, you deserve that. Our entire Care Team works hard to deliver this to you every single day. [See Our Promise] Our skilled dentists provide dental care and cosmetic dentistry; serving residents of Roseville, Como Park, Highland Park, Little Canada, and surrounding St. Paul communities. Call (651) 413-9150 today to set an appointment.
Next Page: Veneers