"I think you are just great in many ways, my teeth of course. You also watch my bill so it doesn't get high. I really appreciate that."
– DAnn D Munion
Dentist & Team Serving St. Paul for over 20 yrs
"Care" – It's in Our Name, It's Who We Are
The entire Chalet Dental Care Team is 100% committed to providing you the very best dental care and dental experience possible. We all understand what it's like to be a patient needing a dentist, and we realize it's not the first thing on the list people want to get done.
We also know:
You don't what cheap "bargain" dental care
and You don't want fast "speedy" dental work
What you do want is: to know, without a doubt, you are getting the very best dental care, that will stand the test of time and look great, all performed by skilled, caring, detail oriented doctors at a fair price.
You really do matter to us. We understand this all matters to you, after all you're talking about a pretty sensitive area. You're talking about your smile, your 1st impression, your pain tolerance and your pocket book. The staff at Chalet Dental Care enjoy their work, enjoy coming in each day and truly want to help take care of you.
We Promise, You Will See & Feel the Chalet Dental Care Difference
We are dedicated to providing the highest level of service possible and take the time to get to know you and what your needs are.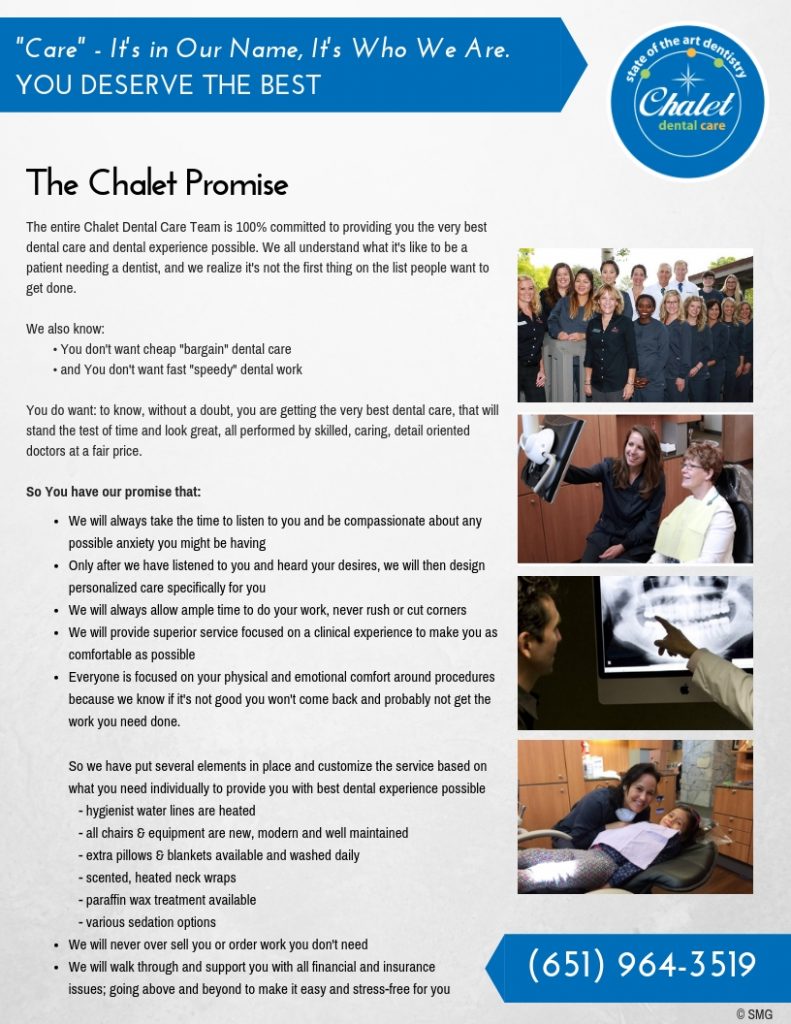 Don't Let the Health of Your Teeth Depend on a Deal-of-The-Day Coupon
We understand you want the very best dental care possible, and you should, you deserve that. Our entire Care Team works hard to deliver this to you every single day – and at a fair price. Our skilled dentists provide comprehensive dental care and precision cosmetic dentistry; serving residents of Roseville, Como Park, Highland Park, Little Canada, and surrounding St. Paul communities. Call (651) 964-3519 today to set an appointment.
Next Page: Contact Us